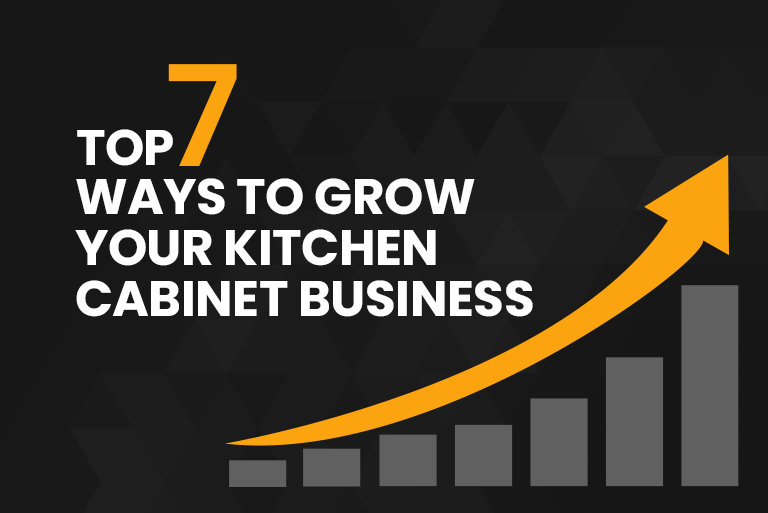 Posted On 02 Nov
0 Comments
02 Nov

Top 7 Ways to Grow Your Kitchen Cabinet Business
Getting a business off the ground is not easy.  Aside from everything that goes into running a business day to day, strategizing a plan for growth, and getting your name out there is a difficult task. If you're looking to grow your kitchen cabinet business, and you need some advice on where to start, you've come to the right place. We'll walk you through the ways you can use digital marketing to create a strategy and get your name out there.
Do You Want to Know How to Grow a Kitchen Cabinet Business?
Learning digital marketing for online kitchen businesses is imperative. Having a strategy will help you figure out what your business needs, and how to go about getting it. Kitchen365 is here to help you with it.
1. Invest in Digital Marketing
It's no secret that your business won't go far without marketing. It is one of the most effective ways to get the word out about your business, and in today's social media age, you must know exactly how to reach your audience. Kitchen365 has the means to get your digital marketing plans off the ground. When you start a digital marketing campaign with us, we'll work with you to build the best marketing plan for your website.
We have several tools at our disposal to help your business grow, and we'll make sure those tools benefit your business.
2. Optimize Your Website for SEO
Without SEO, your website is not likely to show up in search results. You could have everything that your customer is looking for, but if you're not using the right words, they'll never see your company. Keyword analysis is crucial to optimizing your website, as using the right words will help your website show up on Google.
At Kitchen 365, we'll examine your website and plan out what you need for maximum search engine optimization. We'll perform a keyword analysis to see which words will help your website show up and do the work to put them on your website. We'll also help you with generating meta tags, adding search engine site links, sitemap generation, 404 management, tracking and conversion codes, and competitor research. At Kitchen 365, we pride ourselves on our excellent website design, and we guarantee you will be happy with the results.
3. Plan a digital marketing campaign
It's easy to say what you need to do to boost your business' visibility, but without a clear plan it'll be hard to get a digital marketing campaign going. You need to know what you want out of your campaign, who you need to reach, and what you need to do to accomplish those goals.
All of this can feel extremely overwhelming, but Kitchen 365 will help you with planning a digital marketing campaign. Our digital marketing managers will consult with you for 2 hours per month for free, working with you on your marketing campaign and discussing what to do next.
Before you do anything with planning a marketing campaign, you need to see where your strengths and weaknesses lie. Studying your analytics, such as which pages are popular and where you're showing up in search results, will help with planning what content you need to rank higher in search results. Kitchen365 will allow you to study your analytics for your website, giving you a clear picture of your web traffic and which pages people are looking at. From here we will work with you to alter your digital marketing plan to improve your website and help it rank higher.
Once you've settled on how you're going to market your business, the next step is getting the word out. Advertising will help potential customers find your business, and in today's social media age there are so many avenues to tell people about your company. Some of the best platforms for getting the word out are of course Instagram and Facebook but utilizing Google Ads and other online advertising is a great way to ensure people see information about your company. Kitchen 365 has experience working with all these platforms, and we'll work with you to figure out advertisements and social media campaigns that will reach your target audience.
6. Create content for your website
Most of the time, when people are searching online, they are searching for answers. Providing those answers is a great way to get more eyes on your website. It's also important to know what your audience is looking for, and what they need to know. Kitchen365 will help you with writing blogs for your website that answer your customers' burning questions.
Our marketing team will write relevant and engaging content that gets more eyes on your website and utilize keywords to help these posts rank higher.
7. Use Google Maps on your website
Getting the word out about your business is one thing but making sure your customers know your business location is another thing entirely. Here is where using the Google Maps plugin on your website comes into play.
Using Google Maps helps with local SEO, allowing your business to rank higher when someone local searches your business. Kitchen 365 will help with integrating Google Maps on your website, making it easier for potential customers to find your business.
Are You Looking to Accelerate Your Kitchen Cabinet Business? Choose Kitchen 365!
If you're ready to take your kitchen cabinet business to the next level, and see exponential growth, choose Kitchen365. Our professionals are experts in digital marketing techniques for kitchen cabinet businesses, so when you choose us, you are choosing quality experience with people who care that your business succeeds. Our marketing team will do everything in their power to make your kitchen cabinet business popular. Check out our website today and learn how we'll help get the word out about your kitchen cabinet business.