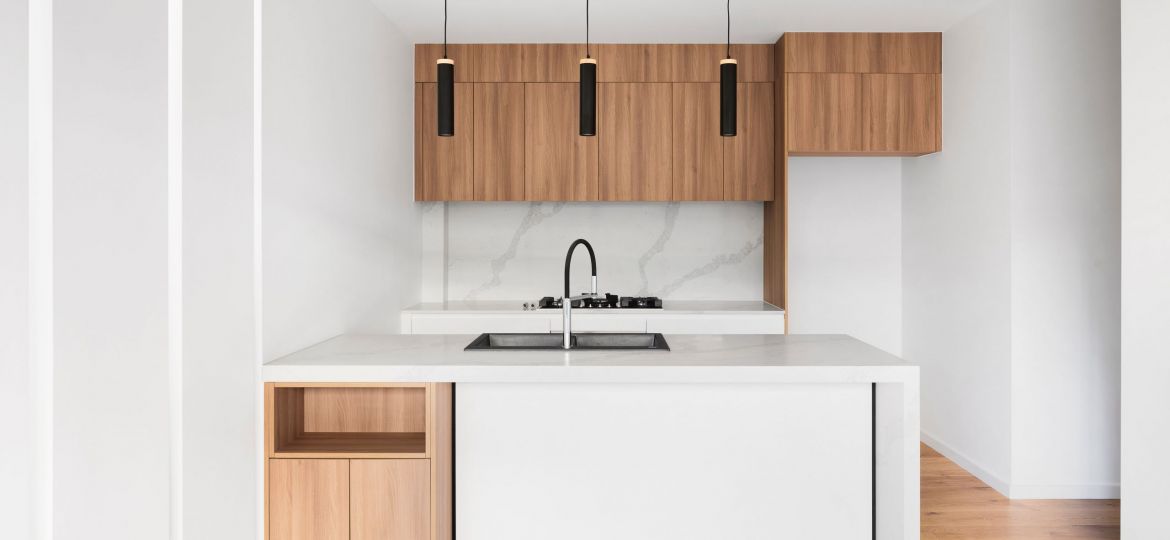 Posted On 31 Dec
0 Comments
31 Dec

How to Make Your Small Kitchen Look Bigger
Working in a small, closed kitchen day in day out can bring you down, whereas walking into a bright airy one can instantly boost your mood. There is no reason a smaller kitchen should not feel stylish and spacious if you follow some design tips to create an illusion of space.

Here are some kitchen design tricks to make your space feel bigger-
White is the most on-trend color in kitchen design right now, and rightly so. It's the best color to create an illusion of vastness and space. White kitchen cabinets along with white wall paint and white countertops will immediately make your kitchen feel bigger and lighter. Use different shades of white to keep the room from feeling sterile.
Instead of opting for a different backsplash, use your countertop stone as one and take it all the way up. This will create an illusion of one large cohesive space instead of breaking the surface into two.
Open shelving instantly gives your kitchen an airier and more spacious feel. If you are short on storage space add longer and multiple shelves for additional storage. Remember to keep the shelves clutter free or it will defy the purpose.
4. Replace cabinet doors with glass
Adding glass doors to some or all cabinets will instantly make your kitchen feel larger. But again, remember to keep the contents in your cabinets orderly. This will also help you keep only the things you need and get rid of clutter.
Access to natural light is very important in a small space. Try to have as many windows as you possibly can. A skylight will also help tremendously. Get rid of heavy draperies and keep the window treatments minimum for optimal light.
Avoid cluttering your countertop with appliances and various knickknacks. Build a corner appliance garage for small appliances like toaster, coffeemaker, blender etc. Find every item in your kitchen a home and donate what you can do without. Store used-once-a-year items in your garage or basement or in the higher shelves of the cabinets.
Reflective surfaces like quartz or marble countertops, stainless steel appliances, glass tiles etc. reflects light making your kitchen feel brighter. Additionally, glass pendants and adequate light sources are important in smaller kitchens. Add lights under the cabinets for added functionality.
Using the same cabinet door front for your appliances like refrigerator and dishwasher as the rest of your kitchen cabinets create a sleek look.  Instead of having multiple door fronts, one cohesive look will make your kitchen feel bigger.
Draw the eye up and create a sense of higher ceiling by opting for taller cabinets. With taller than standard cabinets, you not only make your space feel bigger but also add storage which is a premium in smaller kitchens.
10. Opt for a single sink
Instead of a large double sink, install a single sink when countertop space is precious in a small kitchen. Single undermount sinks are best in such spaces where countertops could instead be used for meal preps and storage.
We can help your customers design their dream kitchen, big or small. Contact us for all your kitchen cabinet website needs and 2020 design services at Kitchen365.com