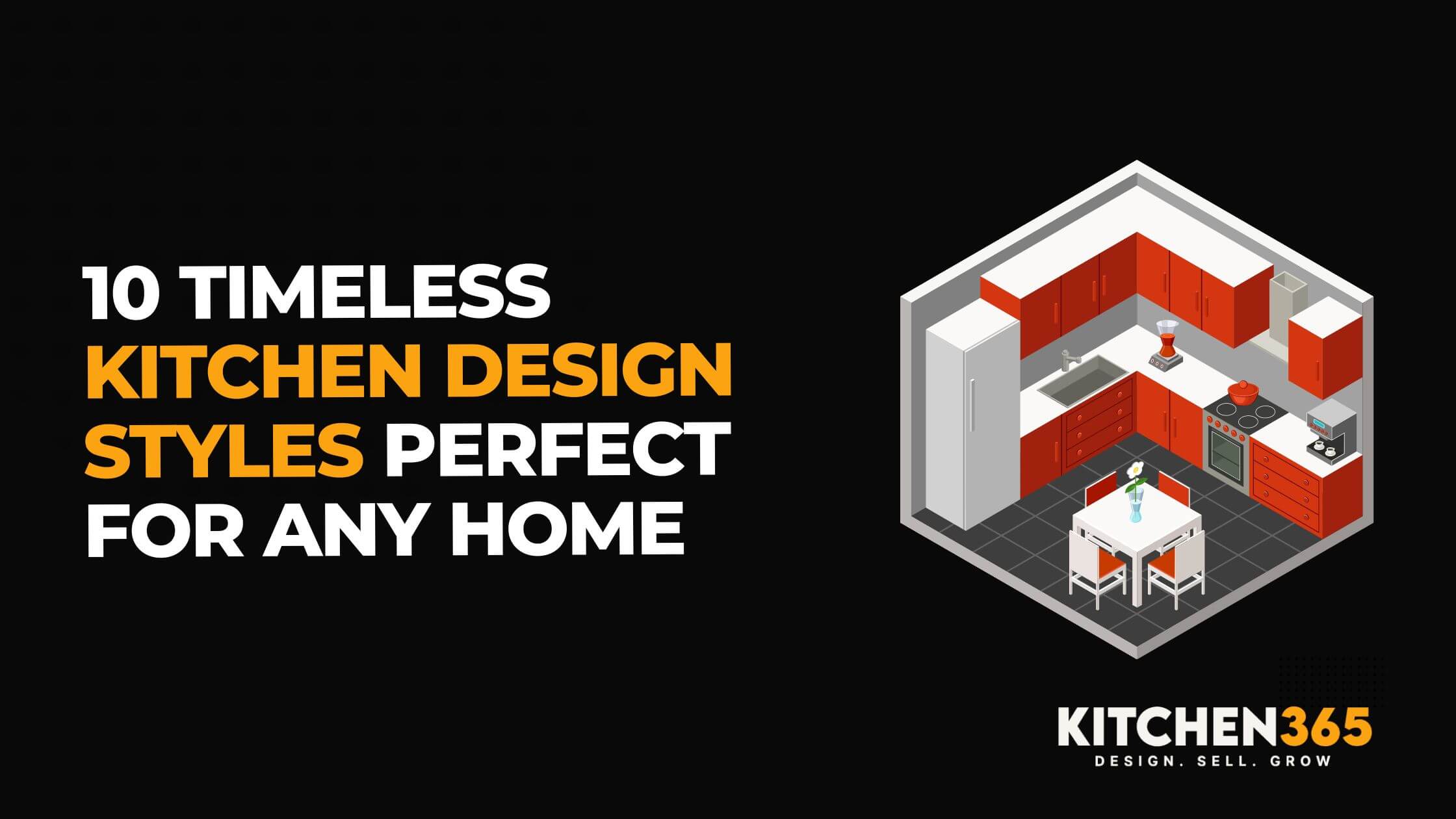 Posted On 28 Apr
0 Comments
28 Apr

10 Timeless Kitchen Design Styles Perfect for Any Home
The kitchen is the heart of any home, and a well-designed kitchen can greatly enhance the functionality and appeal of any living space. Timeless kitchen design refers to a classic and enduring style that transcends trends and fads, resulting in a space that remains fresh and relevant for years to come. It is typically the simplicity and classiness of a kitchen design that age it well.
Highlights:
Timeless kitchen design styles that will never go out of date.

Versatile options for any kitchen style or size.

Inspiration for creating a functional and beautiful kitchen space.
The beauty of a timeless kitchen design is in its versatility, as it can be adapted to a wide range of preferences and aesthetics. Whether you prefer a traditional or modern look, a timeless kitchen design can be customized to suit your needs and preferences, while your kitchen remains a functional and stylish space for years to come. But as a homeowner, we know how difficult it can be to find the right timeless design for your kitchen, so we put together some ideas. Here are 10 Timeless Kitchen Design Styles Perfect for Any Home:
1. Traditional Kitchen Design
Traditional kitchen design styles are classic and timeless, featuring elements such as rich wood cabinetry, decorative moldings, and elegant lighting fixtures. They typically feature ornate cabinetry, intricate moldings, and luxurious materials like marble and granite.
This style is perfect for those who want a kitchen that's both sophisticated and timeless.
2. Contemporary Kitchen Design
Contemporary kitchen design styles are sleek and minimalist, featuring clean lines and a focus on functionality. This design style is perfect for those who want a modern, streamlined look in their kitchen. One of the most popular contemporary kitchen design trends is streamlined cabinetry.
This design trend focuses on clean lines, minimalism, and functionality.
3. Farmhouse Kitchen Design
A Farmhouse kitchen design style tends to be more rustic and charming, featuring elements such as reclaimed wood, vintage accents, and apron-front sinks.
This design style is ideal for those who want a cozy, inviting atmosphere in their kitchen.
4. Industrial Kitchen Design
Industrial kitchen design styles are edgy and modern. Inspired by industrial spaces, it typically features elements such as exposed brick, concrete flooring, and metal accents.
This design style is perfect for those who want a trendy, municipal look, while still creating a functional kitchen. The key to achieving an industrial kitchen design is to balance the rough, raw materials with sleek, modern finishes, creating a harmonious blend of old and new.
5. Mediterranean Kitchen Design
Mediterranean kitchen design styles are warm and inviting, with vibrant colors. This design trend is inspired by the bright colors, intricate patterns, and natural materials found in Mediterranean homes and landscapes. It features elements such as colorful tiles, wrought iron accents, and arched doorways. Mediterranean style kitchens often features warm and earthy color palettes, with tile or stone flooring, hand-painted tiles, and natural wood finishes.
This design style is ideal for those who want a relaxed, laid-back atmosphere in their kitchen.
6. Transitional Kitchen Design
Transitional kitchen design styles combine elements of traditional and contemporary design, featuring clean lines, neutral colors, and mixed textures. The use of natural materials such as wood or stone adds warmth and texture to the space, while geometric patterns and metallic accents provide a modern touch. The key to achieving a successful transitional kitchen design is to balance the old and new elements, creating a cohesive look.
This design style is perfect for those who want a timeless yet modern look in their kitchen.
7. Craftsman Kitchen Design
Craftsman kitchen design styles are cozy and welcoming, featuring elements such as warm wood cabinetry, intricate tile work, and handcrafted details. This design style is ideal for those who want a homey, artisanal atmosphere in their kitchen. The use of natural wood countertops and cabinets, along with vintage-inspired light fixtures, adds to the rustic charm to the space.
Craftsman kitchens are also known for their emphasis on functionality, with plenty of storage and workspace for cooking and entertaining guests.
8. Coastal Kitchen Design
Coastal kitchen styles are bright and airy designs. Inspired by the ocean a breezy scenery, the goal is to create a serene and calming space. Coastal kitchens often feature white or light-colored cabinets, along with quartz or marble countertops that resemble sand or sea glass. The use of natural materials such as rattan or wicker adds to the beachy feel, while nautical accents like rope or sea-inspired artwork provide a playful touch.
This design is perfect for those who want a fresh, seaside-inspired look in their kitchen.
9. Shaker Style Kitchen Design
Shaker-style kitchens are characterized by simple, clean lines and minimalist design. They typically feature flat-panel cabinets and simple hardware give this look a elegant feel.
This style is perfect for those who want a classic and timeless look that won't go out of style.
10. Cottage Kitchen Design
Cottage kitchen design styles are charming and quaint, featuring elements such as vintage decor, pastel colors, and floral accents. Open shelving is also popular in cottage kitchens, allowing you to display your favorite dishes and adding to the homey feel. Soft colors like pastels and neutrals are common choices for walls and cabinetry, giving the kitchen area a calming and relaxed vibe.
This design style is perfect for those who want a cozy, nostalgic atmosphere in their kitchen.
What is the Best Style of Kitchen Cabinet is Timeless?
When it comes to choosing a timeless style of kitchen cabinet, there are a few options that stand out as a classic choice. One of the best styles of kitchen cabinets that is timeless is the Shaker style. The Shaker style features a simple, clean-lined design that has been popular for centuries.
Shaker cabinets are typically made of high-quality wood, and their simple design makes them versatile enough to fit into a variety of kitchen styles, from traditional to modern.
How Kitchen365 Can Help You to Create Kitchen Design for Your Dream?
Kitchen365 is a powerful digital marketing agency for the kitchen and bath cabinet industry. We help you create the kitchen design of your client's dreams by creating digitized 3D renders. With Kitchen365, you can design and visualize your new kitchen in 3D, allowing you to see exactly how your space will look and function before any construction or remodeling begins.
Summary
What makes a timeless kitchen design stand the test of time is its versatility and functionality. With these factors, you can transform any kitchen space into a timeless design. There are a variety of timeless kitchen designs that have proven to be enduring and popular over the years. From classic farmhouse kitchens to sleek and modern minimalist designs, there is a style to suit every taste and budget. Whether you prefer elegant shaker style kitchens, cozy cottage kitchens, or bold Mediterranean kitchens, choosing a design that speaks to you is important. The goal is to create a space that is both functional and beautiful, and that will stand the test of time.